About us
EUROline Logistik- und Packsysteme was founded in 1997 in Bad Schwartau, close to the Hanseatic city of Lübeck. With the continually growing demand for more cost-effective, flexible systems in the field of packing and palletising of products of all types, the company succeeded in establishing itself quickly, providing everything from innovative, customer-focused palletising systems to complete system solutions for final packing.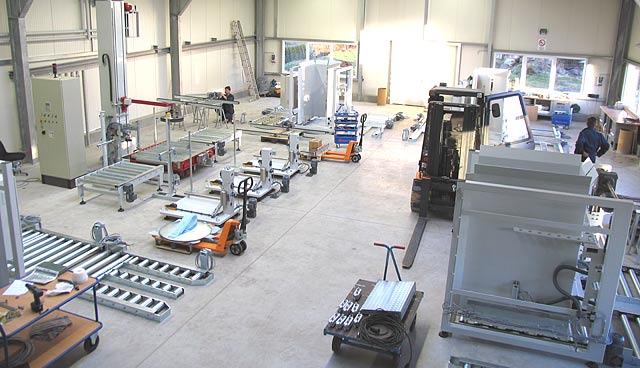 A family business since 1997
Today EUROline is a family business under the leadership of its sole Managing Director, Stefan Münch. It is an innovative supplier of everything from packing systems, palletising systems, conveyor technology and pallet safety systems through to connection solutions for fully-automated high-bay warehouses. In 2004, as a result of growing demand, a new assembly hall was required on the company site in Bad Schwartau, which covers 5,000 square metres. A comprehensive extension of the machine park for pre-production and the development and consolidation of our close collaboration with very flexible suppliers went along with this. As a result of this interaction, a significant improvement in our working processes and considerably shorter delivery times were achieved.
As far as our customers were concerned, 2005 was the year of outsourcing of design and production of complete machines and system components. From that point on, we therefore successfully completed many development projects for some well-known companies. The market considerations of our customers and optimisation of our own procedures led to an effective cost reduction for customers purchasing both standard systems and customised machines. These achievements paved the way for EUROline to become a regular supplier of standard components such as pallet-handling systems for palletising cells. The decision was taken to extend the assembly space once again in 2009 to create additional production capacity, a decision that was implemented in the same year.
In 2011, extensive investment was made again with the extension and modernisation of the factory site and the development of the office building. As a result of our innovative approach, today our range of services covers all aspects of consultancy, development, design, production, commissioning and after-sales service for palletising, conveying and packing technology and customised machine building.